Opportunity...opportunity...is knockin' at your door...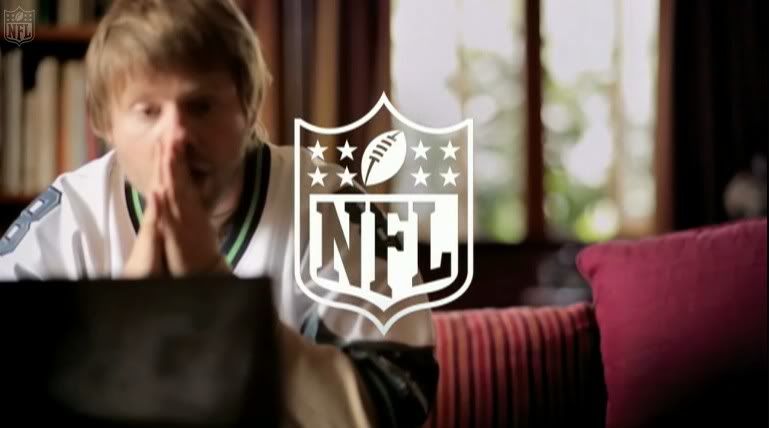 A man, seated at home and wearing a brand-new Hasselbeck away jersey, anxiously contemplates...something. His life. His fantasy starters. Praying for his favorite quarterback's health. We don't know.
Oh shit. He's deciding whether to sell his Seahawks tickets. Is he selling the whole season? Writing this tortuous goddamn team off for good? Fans of the other 31 teams laugh and say, "SELL!" Along with no small number of Seattle fans.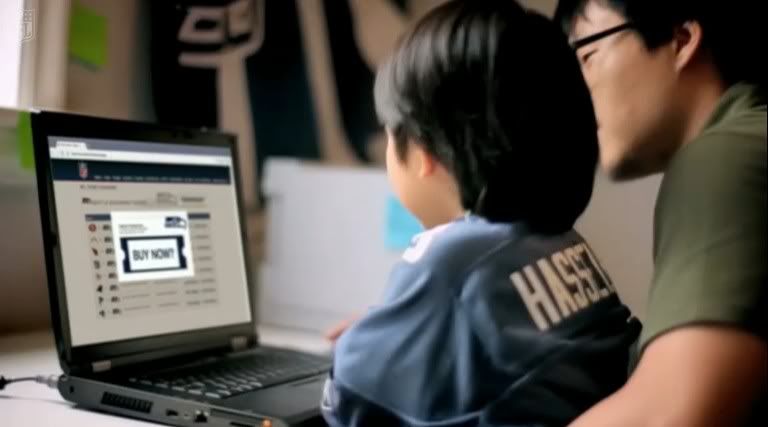 Some guy and his kid in a home Hasselbeck jersey are waiting to buy his tickets at that very moment! What are the odds of that? ~0.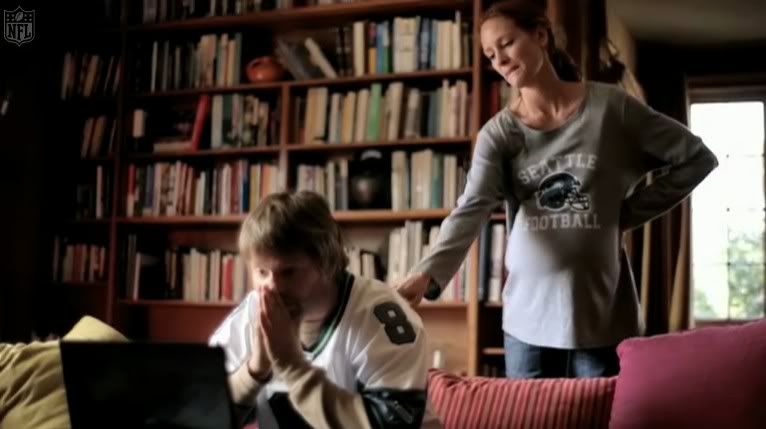 The man, still lost in thought, has to be tapped on the shoulder to notice the presence of his wife. His hot, very pregnant wife wearing a SEATTLE FOOTBALL shirt. Which is funny because it sort of looks like a football. And a good reminder to the laundry-rooters among us that "Seahawks" is simply the nickname of Seattle's football club.
The man can't be bothered to even turn around and make eye contact with his gestating spouse. As he glances over his shoulder she looks down at her distended belly as if to say, "Uh, your kid? Growing inside me?" We become aware that Hasselbeck Away Jersey Guy is kind of an asshole. You noticed her enough to get her that way in the first place, guy. Nice starter beard.
Grab it in the night, grab it in the day, grab it right now it will get away, you better snatch and grab it. Snatch and grab it...
As she drums her fingers over their unborn child, the man knows what he must do. Underneath his jersey is a brown thermal shirt, indicating that it's cold in summer and white guys in Seattle have no fashion sense. At least the marketing geniuses did their homework.
SOLD! He did it! Which begs the question: what took you so long? Forget the little woman was knocked up with your love child? Seattle dudes get stereotyped as slackers once again.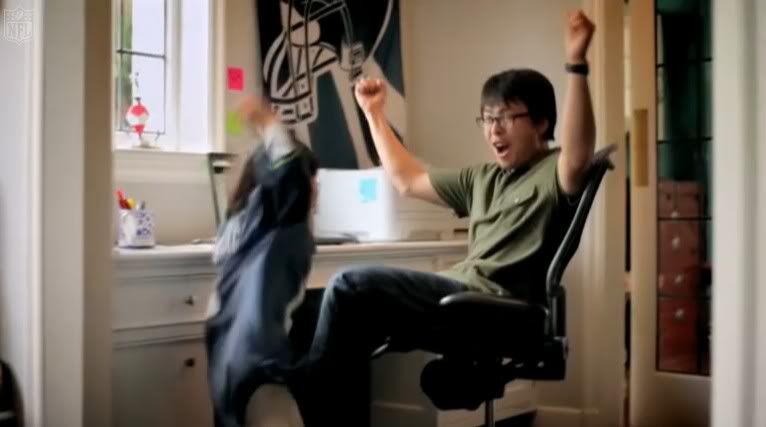 Other Guy and his kid celebrate wildly as the transaction is completed. The stereotypes become thicker still with the Asian guy in his glasses and plastic watch. He's an engineer at Verizon with a nice townhouse, an office hutch with great light and an incongruous Seahawks flag. We get it. But Asians are smart and well-prepared, so why did he risk disappointing his football-mad son by getting tickets so late? The narrative goes off the rails a bit here.
Hasselbeck Away Jersey Guy closes his laptop and looks out the window. Is he satisfied? Wistful? He's a person that wears a jersey at home on non-gamedays so it's possible that this is a defining moment for him. He may be questioning the nature of his own existence, that of a man whose wife was forgiving enough to share in his irrational sports obsession so much that she tolerated his buying season tickets during her pregnancy and unloading them at the last minute. Or maybe he just realized that he's hopelessly henpecked for letting her make their living space look like a Pier 1 Imports showroom.
Buy and sell tickets safely and securely at NFL.com/ticketexchange, a voice-over intones. Finally we see the underlying message: sit your upper-middle class ass down and give the NFL and Ticketmaster even more service fees so you won't be robbed and murdered by some undesirable off Craigslist. That they picked Seahawks fans as the most believable to be affluent computer users and ticket buyers/sellers may be a backhanded compliment. Or it could just be another insult added to a long history of insults.
Sell now? You might be tempted to sell now. Vegas has the over/under for Seahawks wins this season at 7.5. Seven to eight wins would make for a third fairly miserable season in a row. There is no bandwagon to hop off of. If you're not a true blue-and-green fan through thick and thin, then were you ever really a fan? I don't begrudge anyone unloading expensive tickets to a sporting event, especially in a bad economy. But something new and different is happening and it starts this Sunday. It might be a rough season. It's just the beginning. You'll be happy to have stuck it out through the hard times.
Sell now? Hang tough now.
GO SEAHAWKS