The common theme among Seahawk fans and possibly the front office is the need for a big physical receiver.
I agree that they should pursue such a player but they should not think it will resolve the Seahawks', at times, anemic passing attack. In fact, I don't believe it will.
I've observed a lot of Seahawk games over the last few years and my belief is that the team doesn't need so much a big-bodied receiver as much as a receiver who can create separation from a defender and maintain that separation. More specifically, what the Seahawks need is a precise route-runner with incredible speed. Someone who can take the top off the defense while also having the quickness and ability to do a five-yard out against a pressing corner. Unfortunately, not a lot of those guys exist in the NFL these days and even less so in the collegiate ranks.
But there is one WR in this year's draft with that potential.
That receiver is Oregon State Jr. Brandin Cooks. The guy can ball and his college stats back it up. In 2013, Cooks caught 128 balls for 1730 yards which were both Pac-12 single season records. His gridiron exploits led him a 1st Team All-Pac12, 1st Team All-American, and the Biletnikoff Award. Not a one-year wonder, Cooks also caught 67 passes for 1151 yards and five touchdowns his sophomore year.


A big reason for Cook's production is his top-line speed which was a blistering at 4.33 seconds in the 40-yard dash at the NFL combine. His other combine drills also showed all-world athleticism. The guy is a marvelous athlete with great collegiate production to boot.

However, there is a catch. Cooks is not a big kid at only 5-10 and 189 lbs but this could work in the Seahawks favor. Understandably, a lot of teams are scared away from drafting smaller players in the first-round. There are too many risks for potential injury and also the potential of the players' abilities being negated by the incredible physicality of the NFL. In college, you can get away with being faster. In the NFL, you simply can't. This risk factor causes teams to focus on drafting of such players in the later rounds. In fact, the history of the NFL doesn't offer a large margin of success for the shorter and leaner athletes. Only handful come to mind with any type of recent credibility, such as, Santana Moss, Steve Smith, Desean Jackson, Percy Harvin, Wes Welker, and T.Y. Hilton.
Wait. Re-read that last sentence. That's not entirely bad company.
Brandin Cooks working out today at @Oregon pro day. Reminds me of Wes Welker, only faster. Great kid. Going to be good NFL player.

— Gil Brandt (@Gil_Brandt) March 14, 2014

All those wide-receivers are being held as comparisons for Brandin Cooks, specifically Steve Smith, who might be a future hall-of-famer. It's easy to make declarations until the gridiron law finds its first prisoners but after watching Brandin Cooks for the last three years and studying his film, I don't think the analysts and respected scouts are that off-based when they make their blanketed statements about Cooks. He really does have great potential that may translate itself into an elite wide-receiver. On top of that, he is a high-character guy and very smart kid with a high IQ both on and off the field.

With that being said, let's dive in on what you may or may not know about Brandin Cooks based on what you've read (lots of other SBN sites are drooling over Cooks) or even heard.
What you know: Cooks is freaking fast. He's one of the few Pac-12 players I've seen recently who was simply running away from other defensive backs. When watching the Oregon State games, I first thought the opposing defensive backs were just not that fast. Then I noticed he was doing this against everybody including some very athletic defenses. If you ever watch film, a sign of a wide-receivers' elite speed is how the chasing defenders take their angles in order to catch the wide receiver. With Brandin Cooks, it seemed like defenders were taking 30 yard angles. Crazy thing is, Cooks was still beating them to those spots.
What you may not know: Cooks was often out-running his quarterback's arm. Now, Oregon State QB Sean Mannion does not have the strongest arm in the country but he is still amongst the better gunslingers. I can't say how often I watched Cooks streaking down the field wide open and have to wait for Mannion's deep ball. The ball was certainly launched high and far enough but Cooks never really had to run under it. He literally was often waiting for it. Imagine if he had a QB that had the ability to match Cooks speed with timing and strength. A certain Seahawks QB comes to mind.
What you know: Cooks is an elite route-runner. Smooth and effortless come to mind when watching Cooks come out of his breaks. A huge complaint from scouts is the inability of collegiate receivers to run precise routes without making it painfully obvious. The fluidity and agility of Cooks allows him sink his hips and break quickly and sharply into his angles. This is why you hear of the Wes Welker comparisons.
What you may not know: Cooks is being seen as a potential slot wide-receiver which he could handle just fine but I believe it would be a waste of his incredible speed and precision routes. He is the outside receiver who can run that deep crossing or post-route with such burst that the deep safety or corner zones will have to shift over or rotate faster than they'd like. This potential confusion means either an opening of the underneath routes for the other receivers or a 40 yard reception for a guy like Cooks.

What you know: Cooks does not have an amazing high-point ability of other receivers. Although, he is actually pretty good at catching the ball over defenders I would not say this makes him better than Watkins, Lee, or Evans. Defenders can use their weight in getting Cooks off-balanced.
What you may not know: Some scouts think he can be that Percy Harvin type player who can take screens the distance. Yes, Oregon State ran a lot of screens for him but I don't think that will translate well into the NFL. Harvin is extremely physical and adept at making people miss. Cooks, even with his suddenness, is not that physical and he seems to get destroyed unless he has two or three blockers in front of him. If you watched Harvin, you can see that incredible acceleration which allows him to find daylight despite just about getting tackled a moment ago. Cooks has amazing acceleration but not like Harvin's. The real gift of Cooks is his burst during his route running. He is a technician and a true downfield receiver through-and-through. The GIF below counters everything I just stated but its still worth posting.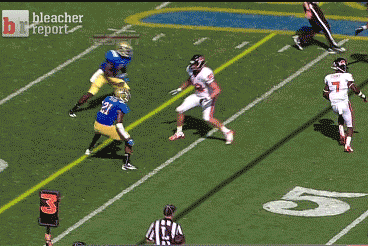 What Would Brandin Cooks Bring to the Seahawks?

You might still be thinking, sure, nice prospect, but we still need a bigger receiver with an amazing catch radius.
I get it. Concerns revolve around the red-zone area. It seemed like Russell Wilson never had anyone to throw to. This thought seems to lead to the idea that if the Seahawks only had a big-bodied guy that Wilson could throw a jump ball to then all these issues would go away.
I seriously doubt that. The red-zone problems for the Seahawks stemmed from three problems: 1. Russell Wilson 2. Defensive pressure and the O-lines failure to adjust 3. The wide receivers inability to maintain separation.
Wilson is going to have to mature in his passing. I think Carroll is doing him no favors in his development by telling him to avoid turnovers at all costs. I think Wilson is incredibly smart and efficient. I don't think he would create more turnovers if he was told simply to play smart but loose. By not trusting his instincts, you saw what many saw. Tentativeness and the failure to pull the trigger. Wilson had open looks but he seemed to second-guess himself and then he'd hold the ball for far too long and it would result in him taking off or taking another deep sack.
And I don't see Pete Carroll's philosophy changing anytime soon. Turnovers are not an option in his lifetime or the one after.
With this in mind, do you actually think that Russell Wilson with Carroll's no turnover philosophy reverberating in his mind would consistently throw a ball to a big receiver who is probably not going to be consistently wide open? Seahawk are not going to get Mike Evans and he is the only big-bodied draft pick that I would trust in situations like this. Coleman and Benjamin are not guys I do this with until they develop for a few years in the NFL.
As for the Tide-ends, Luke Wilson is almost as fast as Mike Evans and Zach Miller is fairly big as well. I didn't see Russell Wilson exactly targeting them on a frequent basis.
What I believe Russell Wilson needs in this type of offensive philosophy is a wide-receiver who can immediately get open and maintain that openness as Wilson scans the field. Cook brings the ability to separate immediately from his defender with his sudden speed and route-running, a combination I didn't see in Tate, Kearse, Rice, or even Doug Baldwin. I love the idea of Russell Wilson having a deep threat, especially on a play-action pass or on a double move. Oregon State, under Mike Riley, ran a heavy dose of play-action and fly sweeps in a pro-style offense which seems to be filtering itself into the Seahawks' playbook. Cooks' learning curve won't possibly be as steep as others.
The utilization of Cooks for the Seahawks would be something along the lines of the Colt's T.Y. Hilton who is reminiscent in build and speed to Cooks except not as even as close in strength or quickness to Cooks. Hilton plays that proverbial deep threat for Luck and it was on display when the Colts played the Seahawks in 2013. The speed and shiftiness of Hilton gave Richard Sherman and even Earl Thomas issues during that game (look at the angle Thomas took just to catch Hilton on the 73 yard TD). If I remember correctly, Luck didn't have a lot of time to throw during that game but with Hilton seemingly wide open all the time, it made Luck's job easier. This really created issues for the Seahawks defense because they now had to account for Hilton's speed which took away Thomas' ability to really freelance and play instinctively and if you're a Seahawks fan, you know that's a big deal. With more and more teams mimicking the Seahawks' press man, players like Hilton are going to be in demand in countering this movement. Cooks could and should be an even better version of Hilton.

Is it possible for the Seahawks to even get Cooks and do they even want him?
It might just happen. You might think WR is not an absolute need but it's becoming one. The Seahawks lost Golden Tate to Simba's Pride and only have a second-round tender to Baldwin, who they might potentially lose next year. I don't like the Seahawks WR depth whatsoever. Both Baldwin and Harvin are injury prone and Kearse is still learning. We all know about Rice (if he re-signs) and his injuries. Lockette and Walters are not exactly starter material either. So, yes, I would say the Seahawks need to target a WR and I think management is planning on doing so even if they get Jermichael Finley as their "big" wide receiver, who I still think is an athletic freak despite his medical setbacks..
Remember, Seahawks drafted Christine Michael last year and everyone wondered why with Marshawn Lynch and Robert Turbin. Well, after seeing Michael in pre-season and Lynch looking slower and Turbin seemingly having a definite ceiling, I would say that was a smart move. Seahawks management said they drafted based who they considered most talented on their big board at that time. You have to wonder if Brandin Cooks will be that guy. Remember, Cooks, like Michael, could be their plan for the future. If they lose Baldwin next year or Harvin gets injured or goes diva, Cooks would be a viable and cheaper option for the future especially with Thomas, Okung, and Wilson's contracts looming.
Also Cooks is currently only 20 years old. He played his first collegiate game as 17-year-old and could finish his first NFL contract as a 23-year-old. In comparison, Wilson played his first NFL game as 24-year-old. Talk about room for growth and longevity.
But can the Seahawks even draft him at 32? This is where the cards have to fall just right.
The Panthers at pick 28 think he might be Steve Smith's heir but that won't matter if they don't have an offensive line. The New York Giants (12) need WRs but they also need everything else. The Jets (18) might make a strong bid for him but they too need O-line help along with defensive corners. The Chargers (25) might want to pair him up with Keenan Allen but their defense needs help desperately. The two teams, who I think are lustily eyeing him, will not make Seahawk fans happy in the least: The 49ers (30) and the Saints (27). Both those teams need some speed in the receiving core and they need that speed to counter the Seahawks physical defense. Both teams don't have major needs (especially now that the Saints shored up their safety position) and they can take this as a specialized pick who can cause issues for the defending superbowl champions. Don't be ignorant to believe that they hadn't seen the Colts game film. They just didn't have the personnel to do that. With Cooks, they do.
Get ready. Draft day can't come soon enough.