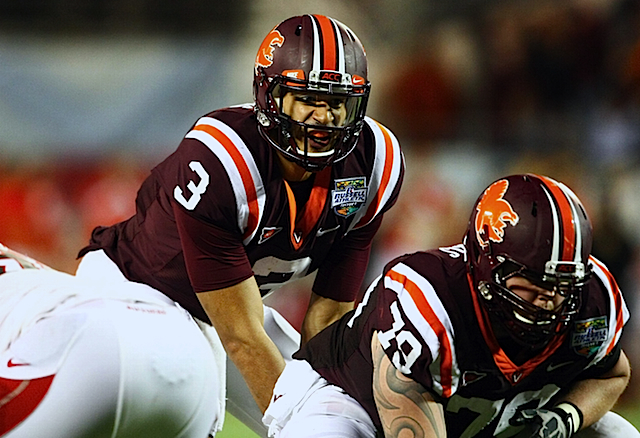 Logan Thomas mey be the most naturally talented QB that I've ever had the pleasure of watching
This is a bit of a break from my usual stuff. Most of the time I look at player the Seahawks might be looking at, and might have a use for. This is not one of those players, or at least, it's probably not. With the trade for Terrelle Pryor the Seahawks have no need for an athletic freak at QB, they've already got one, although Pryor has nowhere near Thomas' arm strength.
Thomas may have the strongest arm that I've ever seen, and his deep ball is just b-e-a-utiful. He's also, as basic as this may seem, really good at throwing screens and swing passes, setting his backs and receivers up with great opportunities to get yards after the catch, like here against Miami:
And he knows how to lead them on swing passes to get them some forward momentum like this:
He's not bad throwing crossing routes either, take a look at this play:
As the announcer said, they fake the stretch run, and one of the d-linemen come unblocked because the center can't get back in time, but Thomas throws (off his back foot, but his shoulders are pretty square) right on the money to his receiver so that he can get about 20 yards after he gets the ball.
This is pretty much the same thing, just to the other side and out of the shotgun. Again, Thomas makes a good throw, leading his receiver and giving him a great chance for some YAC while under pressure, and off balance.
Now, that's all great, but you want to know what gets scouts really excited? Plays like this:
And plays like this:
On the first play above, it looks like something that a faster Big Ben would do. He gets out of the arm tackle, and then runs for a 15 yard gain on second and 4, a very successful play, and one that any offensive coordinator would love to make defenses worry about.
On the second, just an absolutely gorgeous throw on a 15 yard out route, but it goes 25 yards down field, and travels from the opposite hash mark to the numbers, traveling 35-40 yards in the air on an frozen rope. It's just beautiful. It's also the same throw that Danny talked about in this amazing piece written a year ago tomorrow. And wouldn't you know it? the first .gif in the entire piece is almost identical to that throw against North Carolina.
And just for good measure, this
looks an awful lot like this
Now, by no means am I saying that Thomas is a perfect prospect at QB (unless you're talking physically, in which case he is). His dropbacks are sloppy at times, and his accuracy IS erratic, and he tends to throw off balance a little too much for my taste, but it's covered up by his incredible natural arm talent. One other slight turnoff is that his best year in college was his sophomore year, when he had career bests in...well...everything, looking at that version at age 20, he seemed to be on track to be a consensus first round pick, if not a top 5 pick like Cam Newton. In fact, that likely would have been his closest comparison.
One thing you have to consider when you're scouting Logan Thomas is that he's still relatively new to playing QB. He was recruited out of high school as a tight end, and it's easy to see why, he's really fast for his size, has huge hands, and he's huge in general. He was actually a 5 star tight end coming out of college, the number 2 TE in the country according to scout.com and number 1 at his position by rivals.com. He's an amazing athlete with a huge arm.
If I was a team in need of a QB, I'd make sure to have Thomas in the back of my mind. In fact, if I'm the Houston Texans, this guy is the reason that I'd feel even better taking Jadeveon Clowney in the first round. Bill O'Brien is widely regarded as a QB guru, and with weapons like Andre Johnson, and DeAndre Hopkins, and Arian Foster, and Owen Daniels (how do they have the #1 pick again?) and a defense featuring possibly the best player at any position in the NFL (seriously, how?) they could let Thomas sit for a year and play him after that, or even play him now and design an offense that fits his skill set (crossing routes, seam routes, screens) and still have a good season.
Heck, even if QB isn't a need, and you've got an established, but aging elite veteran like Tom Brady or Peyton Manning, Thomas has nearly unlimited upside, and he's worth a risk in the middle rounds. Could you imagine a guy like Logan Thomas throwing passes to Demaryius Thomas and Julius Thomas in Denver? to Gronk and Aaron Dobson in New England? To Jimmy Graham and Kenny Stills in New Orleans? No restrictions on any of the throws they could make, any of the routes they could run, and a threat to run at QB. Basically think Colin Kaepernick on the Broncos. How hard to defend is that? He may not be the best QB, but the added dimensions that he gives a team in both the running and the passing game is incredible and impossible to prepare for. Give him a mentor like Tom Brady or Drew Brees and he just might reach that upside.
And yet there are still videos like this that come out. And I'm not saying that I don't see where they're coming from. Like I said, coming out of high school he was a 5 star tight end with incredible upside. But I don't want a guy that can do this on the receiving end of the football. I want him on the throwing end of the football.
To be sure there's plenty of bad tape out there, and I did use almost exclusively good tape in this pseudo-scouting report, but when I look at prospects I tend to look at what they have to offer on the positive end of the spectrum (unless you're a receiver being talked up to be the second coming of Jerry Rice at this point). And like I've said several times, with Logan Thomas there is no ceiling. There's high bust potential, but there's a shot, albeit a very long one, that he could be one of the elite QBs in a couple years, similar to how Aaron Rogers sat behind Brett Farve for a few years, Logan Thomas could sit behind on of the great QBs that we have in the league today, and then step in and take that team to the next level.
p.s. sorry if the videos make this article lengthy and have a long load time, I just found out how to do the start/stop at a certain time stamp thing, and I wanted to try it out.