I used to do more of this stuff last year when I first started writing for Field Gulls. Then, it was later in the season and Football Outsiders metrics had clarified a bit. In the first few weeks of the year you are likely to get all sorts of weird data and weirder and more inaccurate conclusions drawn from it. Four weeks in similar weirdness is still possible, but I think most of the stats I chose are pretty stable (I went back to last year to guarantee that). Here a three statistical strength versus strength matchups, and three mismatches for each team. All data compiled from Football Outsiders. This will be weekly segment going forward.
Key Matchups: Strength Versus Strength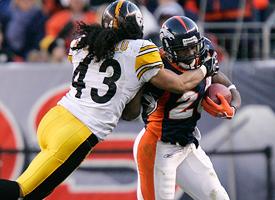 Santonio Holmes Versus Marcus Trufant: Holmes is quietly busting out this season. Quiet is how it happens when you've only recorded 285 yards receiving, but sport the third best DPAR in football, 13.4. Tru is doing likewise, having the season long anticipated by the Seattle faithful. One of the unheralded reasons for Seattle's hot start has been his ability to shutdown top receivers. Seattle is ranked fourth in all of football with a -40.3% DVOA to passes intended for #1 wide receivers.
Bobby Engram Versus Troy Polamalu: Bobby Engram has been the Hawks' most valuable receiver (9.4 DPAR) despite facing some pretty stiff competition. This week he faces Troy Polamalu and the Steelers' fifth ranked defense versus "Other WRs". This isn't a must win matchup for Seattle, but it does put a greater onus on Nate Burleson than I'm comfortable with.
Pass Versus Pass D: This one goes both ways. Seattle has the fifth ranked pass offense (34.7%), The Steelers the best pass defense (-25.1%). The Steelers have the 12th ranked pass offense (9.8%), the Hawks the 8th ranked pass defense (-13.5%).
Seahawks Mismatches
Deion Branch Versus Ike Taylor: Branch is the 13th ranked WR is DPAR (8.4) but has played better than even that the past three games. Taylor does a lot of things right, including the occasionally corner blitz and manning up in run support. What he's never excelled in man coverage. Pittsburgh is currently ranked 17th defending #1 receivers (11.2% DVOA), but after recording a combustible 30th (26.0% DVOA) in 2006, you can see a lot of room for that to fall off. Branch is starting to get mentioned with the league's elite wide receivers, this might be his chance to breakout on the national scene.
Pass Rush/Pass Protection: Seattle proved against the Niners that they can eviscerate inferior offensive lines. The pass rush has been Seattle's foremost defensive strength, recording 13 sacks, a 10th ranked, 8.7%, ASR. Ken Whisenhunt brought his power rushing attack to the desert and ever since Pittsburgh's line has been exposed as a below average pass blocking team. In 2006 they allowed 49 sacks, and recorded the league's 24th adjusted sank rank (7.4%). This year they look a little improved, 21st, 7.1%. That's after just a 40% opponent adjustment, so don't be surprised if that dips again once the crappiness of Cleveland (27th ASR) and Buffalo (29th) is better incorporated into their overall ranking.
The Return Game: You don't expect a team with a smash mouth reputation like Pittsburgh to be soft on special teams, but they've failed to stop big kick and punt returns through the first four games of the season. Especially noteworthy was Cardinal Steve Breaston's momentum changing fourth quarter punt return last week. For the season Pittsburgh has a -1.2 DPAR on kick returns and -2.6 DPAR on punt returns. That's two of Seattle's many special teams' strengths, recording 0.6 and 2.2 DPAR out of the two units respectively. It makes you wish Alvin Pearman and Josh Wilson weren't hurt, but Nate Burleson is still the Hawks best return man, so we shouldn't see too much of a drop-off on Sunday. You never can count on special teams, but the Hawks face a dogfight and whatever slight advantage they can get through the return game should be savored.
Pittsburgh Mismatches
Power Success: Seattle doesn't stop short yardage. They've allowed 88% of power situations to result in a first down. The Steelers by contrast, are excellent in power situations converting 77% into first downs. This is a key mismatch.
10+ Yards: Seattle hasn't plummeted to the depths of last season, when they allowed a staggering 29% of all rushes to extend past ten yards. This season they are middle of the pack, allowing 17% of all runs to extend past 10 yards (19th). The bad news is that Seattle has faced some slow footed backs. The two backs Seattle has faced with quality second gears, Frank Gore and Kenny Watson, have averaged a run of 10 or more yards on 20% of all rushes collectively. That's not a horrendous drop-off, but it's enough to elicit some fear facing a rusher with one of the best second gears among running backs in football, and excepting only Reggie Bush, the best third gear, Willie Parker. It's time for Brian Russell and Deon Grant to step up in run support.
Non Linemen Sacks: Pittsburgh is 4th in football in adjusted sack percentage. The real danger is that 12 of their 14 sacks have come from non-linemen, 8 from linebackers. Have I mentioned Seattle has poor backfield blocking and inferior receiving backs? Seattle has allowed only 7 sacks for the season, 3 to non-linemen. James Harrison, Larry Foote, James Farrior and Clark Haggen laugh at the linebackers we've faced so far this season. This is all about the Hawks' interior three, Rob Sims, Chris Spencer and Chris Gray. They must be able to disengage from the pile and take on blitzing linebackers arriving from all angles. The danger isn't just a sack, it's losing Matt Hasselbeck.