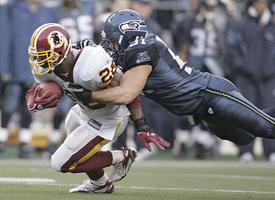 When I see Lofa Tatupu I think: Mike Singletary. Two defensive quarterbacks, unquestioned team leaders and tackling machines. Two college standouts, drafted in the second round that started their first year. Two players whose grit, talent and intelligence forced success from a 6 foot, 240 lb body. Of course, Singletary played 20 years ago. Nowadays, Tatupu is smaller than the average starting fullback, and smaller than more than a few running backs. Now, size is a stupid way to evaluate a player, but it's not meaningless.
Even a part time fan of the Seahawks could diagnose the Hawks biggest defensive weakness: The big play. No place was this more evident than against the run, where Seattle allowed a staggering 29% of rushing attempts to surpass ten yards. That's 6% greater than the 31st ranked team, the New Orleans Saints. In fact, that six percent is the same distance as between the Saints and the league average.
The good news is that teams can rebound, sometimes significantly like the 2001 Carolina Panthers who went from second worst to first in the league in stopping long runs, but the truth is that it's the exception. Of thirty teams (team, in this instance, separates the 2002 Vikings from the 2003 Vikings) who ranked in the bottom five at allowing runs of 10+ yards, 17 moved less than five spots +/- the next year. Some teams, like the early ought Kansas City Cheifs, seemed hopelessly mired in the bottom five. They scored a bottom five finish five times, Minnesota, four.
Some of this was Tatupu's fault. He audibled the line into stunts, creating cutback lanes. He was frequently lost in traffic when the running back reached the second level. He overpursued misdirection and found himself with poor body position, an easy block for a fullback or pulling guard.
But mostly, it wasn't Tatupu's fault. His 122 tackles were no mirage. The guy has a nose for the ball and gets to it in a hurry, but, to repeat an earlier theme, his size makes him a liability in traffic. The Hawks defensive line must be able to tie up defenders and allow Tatupu to work in space, because for all his heart and intelligence, Tatupu can be easily blocked out of the play. As I demonstrated in the Tubbs retro, when Seattle's interior defensive line thinned, teams dissected our second level. Tatupu, Julian Peterson and Leroy Hill are fast players, playmakers, but hardly intimidating physical presences. Collectively they average a scant 234 lbs.
Tatupu is never likely to add the kind of bulk needed to be a force shedding blockers and clogging rush lanes. That's fine, that's not his game. Nor is his build wiry and projectable say the way a Mario Williams is. Therefore, I think his 2005/2006 performance is a good model for what could be expected from him going forward. He's not likely to break-out, per se, but nor is he ever likely to collapse. That might sound pessimistic, but I'll call it overly realistic; besides, eight more 2005/2006's would make him a HOFer (1,140 tackles, 20 INT, 27.5 Sacks) just like Mike Singletary.
. . .
Free Agency starts tomorrow, finally giving me a reservoir of new information to comment on. Woo-Hoo! That means the player retros will become a little more sporadic, but the overall posting quantity should increase.
On another note, my draft plan will be up in early April. I was thinking of using a modified wisdom of crowds sort of model. It will consist of four equally weighted criteria, my opinion, Mel Kiper's opinion, a system that picks players based on the number of NFL starters by position that were drafted in that round and the collective opinion of this site's informed fans. To contribute that final data point I need all of you to start posting mock drafts and, thusly, will create a catch-all story thread to post them in. That thread won't be up for a couple weeks, as a TON of new information about potential picks, not to mention a lot of activity through free agency, should be trickling in between then and now, so, until then, do your homework, Field Gulls needs you.