Want a big deadline deal that rights Seattle and pushes them towards an exciting if maybe ultimately futile end to their season? Want that player without giving up a thing? How about a player that plays at one of the most valuable and rare positions in the NFL? A player that turns a weakness into a strength, makes Josh Wilson one of the best nickel corners in the NFL and could be that completing piece that puts a talented and young defense over the top?
Remember when Marcus Trufant could be all that and more? He can still be. Let's flashback to 2007 and remember when Tru was a no-doubt Pro Bowler. Thanks to that smutty crew at Field Gulls for the content. I'm just here to be snarky and provide links.
Marcus Trufant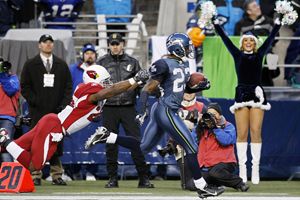 Penetration: 1
Good Coverage: 26
Broken Tackle:5
Blown Coverage: 13
Blown Assignment: 1
*Includes all games minus Week 10, Divisional Round and the second half of Week 3 and the first half of week 1.
9/31/07
Marcus Trufant grabbed two picks, a gimme that could as easily have been any DB on the roster and another that may be proof of real growth. The gimme was on the Niners first play from scrimmage after the onside kick. Trufant just happened to be in the best position to grab Trent Dilfer's badly sailed pass. The second, also ridiculously enough on a play-action (think you better scrap the play-actions once your team is down by twenty Mike?) was an exciting display of coverage and well timed aggression. Trufant is at his customary position, alongside the receiver's hip, when Dilfer tosses a wounded duck. Tru breaks coverage and zips back to the ball. Playmaking is the component Trufant has long needed to become a next level corner. For the past few years he's excelled in coverage. You very rarely see Tru out of position on a pass, but he's never mastered creating fear in opposing quarterbacks. That comes from opportunism and turning bad passes into picks. Some of the problem has been his hands, which are just okay, but the larger factor is that Trufant rarely ever plays anything but the receiver. It's good cover corner technique and I don't want him to become a Delta O'neal type route jumper, but the best corners know when to play cover and when to play the ball. Maybe Trufant is finally figuring that out.
10/21/07
First play, Rams fourth drive. The Hawks are dominating the line of scrimmage, but leading only 10-3. Bulger, with good time, attempts a deep pass along the right sideline. Tru intercepts. On the replay, here's what we see. Off the line Tru uses expert body position to subtly ride Bruce up against the sideline. He's literally in lockstep with Bruce, hip to hip, running down the right sideline. That's all classic Tru, but here's where we see something new. Still shadowing Bruce, playing the man, he sees Bruce look up towards the descending pass. Trufant sticks up an arm and begins to turn his body back towards the line of scrimmage. Both men are still running at near top speed, so that's incredibly difficult for Tru to do. The ball hits Tru in the arm and bounces back towards his bread basket, Tru snags the ball, tip-toes two feet centimeters from the sideline and converts the interception. He doesn't ballhawk, he never breaks coverage opening the potential for a big gain, Tru nullifies his man and punishes the attempt. Bulger wouldn't look Bruce's way again until garbage time in the fourth quarter. That's true shutdown corner play that Seattle hasn't had since Shawn Springs. That's Tru, free agent 2008.
11/25/07
The next play is a pass. The Rams attempt to combo block Mebane off the snap, but he sheds the center, isolates the guard, and walks him back into Bulger. Never attaining true penetration, but creating pressure, and forcing Bulger to throw into coverage. That coverage is sublime. Marcus Trufant locks down Holt, and without breaking off his man scoops up the interception. Tru is still primarily a cover corner, but his ability to play the ball has improved tremendously. What is most exciting, though, and what may vault Tru into the realm of shutdown corner, is that he gets picks without breaking coverage. Even the best cover corners, like Dallas' Terrence Newman, generally have to jump routes to score picks. That's risky. Tru gets picks on plays that are either pick or incompletion. It's yet to be seen if Tru can keep it up, but if he can, he could become one of the five best corners in football.
12/9/07
Tru showcased some of those ball skills we've long looked for from him. He's been a top cover guy for the last two years (albeit on some very shoddy secondaries), but this season he's shown both the ability to shutdown a receiver, and play the ball for the pick. With that said, it's not likely that Tru would have attempted either of his two second half picks if not for the Hawks being up big. Each was a little risky, jumping routes and thereby breaking coverage, but both were done expertly. The question for Tru, who's already turned into an elite NFL corner, is this growth? Will he take his big day on Sunday and turn it into confidence or cockiness? Tru at his best has shown the ability to lockdown a receiver, the ability to jump routes for the game-changing pick, and, most importantly, the ability to know when to do each.
1/5/08
The Truth: On the Skins second rush of their second drive, the Hawks gang tackled Portis after 6 yards. The Hawks have Portis wrapped, so Tru, the freakin' brilliant player that he is, goes for the strip. Nothing came of it, but it's a really heady play, and a compliment to Jim Mora Jr's coaching.
9/16/07
Marcus Trufant often gives too much cushion in coverage. If you're playing Marvin Harrison perhaps the five yard separation is warranted, but against Anquan Boldin playing so soft allows for a lot of short, but productive completions.
10/7/07
Rough day for Seattle's secondary, and though we think of the big men along the line as suffering the most from fatigue, the little guys, of which Seattle has considerably less depth and who must run around all game, looked the worse for wear. On the Steelers' back breaking 10 minute drive to open the second half, Marcus Trufant, Jennings and Jordan Babineaux combined for four blown coverages resulting in 56 yards and 3 first downs. Tru seemed to have particular trouble keeping his feet.
11/25/07
Speaking of Russell, he is partly to blame for Bruce's touchdown reception. It's 3rd and 6, the Rams are in a bunch formation left, the Hawks, a base package with man coverage. Grant is lined up over top, Jennings on the exterior and Trufant on the interior. At the snap the top and inside man of the bunch run in what might best be described as an "X". Jennings picks up the receiver running out, Grant the receiver running in. The pattern has the effect of screening Trufant from Bruce until about 5 yards from the line of scrimmage. Now, Tru bears blame, while Jennings and Grant are able to confidently maneuver the formation and pick up their men, Trufant looks bewildered. It is possible that he assumed that the inside man would be his responsibility and not Grant's, but that we'll never know. What we do know is that Trufant is well behind Bruce and desperately in need of deep help. That's where Russell, who is working in a middle zone in the endzone, should run over to cover Bruce. Instead, Russell stays in the center though Grant has his man covered, and then doesn't break towards Bruce until it's entirely too late. The Rams convert the score and Trufant looks a couple shades worse than he deserves.
12/2/07
Two plays later the Eagles run trips left, and in an eerily reminiscent scene, Tru loses Curtis breaking towards the sideline. It's 9/10ths the same play call the Rams ran last week in which Tru broke coverage and allowed Isaac Bruce to get open in the endzone. Mora may want to find a more effective way to defend against that. Russell tackles Curtis 47 yards down the field, and had Curtis not nearly fumbled the ball switching hands, it's unlikely Russell catches him at all.
In 2007, Marcus Trufant developed from a top cover corner to a top corner. Tru was in the mix for best overall defensive player for Seattle in 2007, but was definitely their least replaceable. Losing Tru would have sorely weakened Seattle's run stopping, coverage against top receivers and crippled its right secondary: Need I explain the enormity of Jordan Babineaux + Brian Russell? I lobbied pretty hard for Seattle resigning Trufant and it's good to see that though Tim Ruskell clearly prefers his own players to the Hawks' former GMs collective holdovers, he's not dogmatic. The question now for Trufant is does he maintain or even build upon his substantial gains from 2007, solidify his rep as a Pro Bowl player or regress to the very good tackling cover corner he once was. Tru is a young 27; in his absolute prime. Fans can and should expect a level of play like last season's for the next 3-5 years. If Tru wants it bad enough and everything breaks right, he could become Champ Bailey good.
Photo Courtesy: ESPN