I'm not predicting a blowout. But the potential is there.
Elite Stalemates Aren't Common
Elite strength on strength matchups don't tend to reach stalemate. They tend to be decided decisively. The royal, collective we continue to seem more surprised than we should when a titanic matchup doesn't turn out a thrilling, nail-biting ending but present an apparent victor well before the game clock reaches all zeroes, no matter the ultimate spoils that may be decided by other factors in the meanwhile.
They don't have a strong history of living up to the billing.
New England at Seattle 2012 turned out to be the top scoring offense matched against the top scoring (allowed) defense. It was early in the season so we didn't fully know. It turned out 12 points lower than the Patriots' per-game average. The year prior, top scoring Green Bay didn't face the best defense, but they subsequently opened 2012 against them (San Francisco). 22 points, 13 less than their season average they had just completed.
That might be stretching things, and it doesn't always turn up defense. In 2010 top scoring New England hung 39 on league-best Pittsburgh. That was nearly triple the Steelers' average PPG allowed. The last offensive juggernaut of Denver's magnitude was in 2007, didn't quite end well for them, although the New York Giants of those playoffs didn't seem to be the same team as in the regular season. Kind of an outlier.
2006 Indianapolis, #1 in DVOA, faced the #1 defense in DVOA, and beat them. 15-6. At Baltimore. Despite the game victory, Peyton Manning's old squad didn't win the elite unit matchup. They did, however, hang 29 on the #2 DVOA defense, the Bears, in the Super Bowl. That was double the Bears' average PPG allowed.
We could go back to 2002 Tampa over Oakland, or 2000 Baltimore holding Denver and then Oakland to 3 points apiece. The 2013 Seahawks are actually a stronger defense than the 2000 Ravens, so it's OK to use that legendary and outlier unit in comparison, here.
Let's not conflate a team or score stalemate with an elite matchup on an individual and/or unit level. The score could be close. But two Goliaths have their smooth round stone from the creekbed. When they swing their sling, someone ain't gon' be standin' no more.
Question is: Who?
Second Fiddles
Let's save strength on strength for the end; it's the most intriguing factor and what we all want to analyze. Denver runs the ball really well, too. Seattle also has a fairly stout run defense. In both cases, it goes without saying, they benefit from their elite counterpart.
Expect the Broncos to run a lot. Just like everyone else who's faced Seattle. It's the weaker of the two units, and Denver's designed to coerce you into a look that's favorable for a run or a pass and then take it. Danny Kelly correctly predicted the groundwork for the chessmatch between Denver & New England prior to the conference championship.
...Belichick believes he's giving his team the best shot at winning by manipulating Peyton Manning into handing the ball off rather than throwing it...he'll show light six- and seven-man fronts or defensive looks that would be advantageous to run on.
And so they did. But they found that Denver didn't always run on favorable fronts.
That's a lotta green behind that 5-man box. The slot corners on each side are watching for the run. But the Broncos rolled out some fairly aggressive splits. Or so it seems. The safeties creep back, uneasily, about 4 yards deeper than this shot.
I say seems aggressive, because San Francisco showed a similar offensive look versus Seattle back in Week 2 (pic by Chris Brown).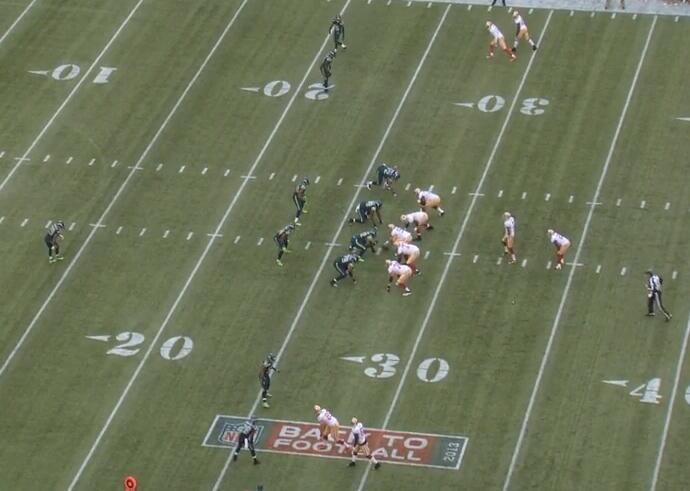 Now these are some wiiiide receivers. Seattle kept to 6 in the box, trusting their deep coverage a little more. You can see Seattle cheating to the press side, rolling zone coverage over from the offensive right. Take this mathematical 6-on-7 advantage for San Francisco and "read a defender out" with the option, and this thing looks pretty damn potent when your quarterback is half gazelle.
Seattle will make you earn it. See how the end linemen are tilted like the one-technique, Brandon Mebane? The LBs don't mind the gaps, but spy the backfield, making sure to have one step on Kaepernick and Gore, to their side. They're ready to scrape over, if necessary, and the ends are ready to cut into the B-Gaps and crash down on any Gore run. Unfortunately for San Francisco, a blown block by the tackle made it a 2-yard gain.
Back to Denver. Their splits are closer, making for more of a running threat with receiver blocking. It's 1st & 10, but they throw it to Julius Thomas, who motioned late & dragged across. So Denver got a great look to run on, 5-man box and nickel personnel, one LB pulled horizontally out of the box. On 1st & 10. With a TE motioning inward, and having inside leverage on the cover LB at the snap.
But they throw. The safeties creep back prior to the snap, giving even more cushion, and the two seam routes go deep, but Manning never looks to them.
Demaryius Thomas breaks open quickly here, but Manning looks first to Wes Welker running a pick (which picks no one as the zone coverages are prepared for it) before turning and delivering to Julius underneath.
Even great QBs miss better options downfield a time or two a game; I've seen Brady & Rodgers make similar decisions on occasion. Perhaps this is one of those cases. But protection was strong, Demaryius broke open at only 8-yard depth, and above all, the situation (not just 1st & 10, but the first play of the drive), formation, personnel and execution all favored a run, here. It looks mighty deliberate.
Now. Compare the formation again to what San Francisco used against Seattle, and there's enough evidence for an indictment: their splits leave the most horizontal, undefended space to the far offensive left, and the closest defenders are vacated out to make room for Julius to run with.
Bill Belichick gameplanned to coerce Denver into running. And Denver intentionally set up a running-favorable situation to pass out of, looking to trick the defense into expecting an audible to run. That's battle-of-wits-with-a-Sicilian-with-death-on-the-line kind of stuff.
How does this figure to play out versus Seattle? Seattle has routinely erred on keeping more defenders in the box. The secondary has allowed for it. It's worked well for them, and dropping more underneath defenders deep would not only be playing away from their strengths and experience, it would be playing away from what's proven to be the heavily-leaned on cornerstones of the Broncos' passing game, indeed their offense, and even team: mesh and flood concepts from spread football. More on that soon.
Seattle's run defense is a bit more decoupled from their pass defense because of the historically good pass defense. The 49er formation and Kaepernick read-option threat is a bit of an extreme example; it's rare, and really difficult, to send 4 receiving options and somehow manufacture a 6-on-7 or even 6-on-8 advantage in the box. For Denver, the 7-man base front versus their constant 11 personnel with Julius Thomas tight is a favorable running situation outside of passing downs, but the math advantage there amounts to +1, and Seattle didn't flinch, but rather held ground and successfully stopped one of the best running offenses in the league at a -1 or even -2 disadvantage.
That's not to say they're an elite run defensive unit. But they can hold up well without numbers. I don't exactly know what Pete Carroll meant by fixing their "run fits," but they've fixed them since November. They've been playing well.
Third Fiddles
Seattle's passing game has been the weakest link and sorest spot on both teams. Right?
It's become a bit painful to watch Seattle attempt to pass, but they've produce 27.7% passing DVOA, good for 8th in a league where 4th through 8th are tightly grouped together. But Denver's pass defense is 10% points under average, which is fairly bad.
The Broncos' pass defense is better than stats show. They've constantly faced opponents in catchup & desperation mode. Their run defense being clearly stronger, teams have not had much incentive to reduce the pass attempts. Denver played San Diego decently well. It's easy to overlook that San Diego was the "other" pass offense that went over 50% DVOA for the year. They didn't play New England quite as well. Plenty of throws were available for the Patriots' taking, but Tom Brady had a rather inaccurate game.
The Broncos also produced plenty of QB hurries & pressure without Von Miller. For the year, including Miller, they approached the close of the season 5th in MMQB pressure points. But they had just a 6.5% (21st) sack rate. Even Bronco fans don't seem to regard their pass rush as particularly strong, but with the matchup they're facing in New York on Sunday, you better believe it will be strong.
Seattle's pressure allowed has been the worst by any metric. Russell Wilson bears some of the blame, but we don't need to go over that again. And re-watching the playoff games have shown both the offensive line bearing much more of the blame (exasperatingly so vs. New Orleans) and also playing just slightly better, yet still inconsistent (San Francisco).
Seattle's pass offense can be deceiving. They can extend a couple plays and pick up a few large chunks to not only make the aggregate passing figures respectable, but be the difference in a game. That absolutely applies, here. But I expect the most likely outcome here is that Seattle's passing game underwhelms enough to keep both teams in the game. Again. But this time, perhaps only relatively speaking.
San Francisco did a fine job of anticipating which way Seattle's outside zone runs were going. Justin Smith hopped over to the correct gap shade technique right before the snap to blast through and be ready for the cutback lane, on several occasions. Seattle had a tough time going, running, early, but it opened up as the game of attrition set in. San Francisco is a great front. Seattle contained their stunts fairly well. Individual failings -- mostly by the guards, a common season storyline -- amounted to most of the pressure-defeated plays. Russell Okung forced a punt by cutting inside and shoving James Carpenter with one hand, before turning to contain the blitzing Navorro Bowman who picked up the sack.
But there were more positive plays, and more positive individual executions, than I had noticed before. Max Unger held power bull rushes, including from Justin Smith, a few times. Breno Giacomini did a fine job, perhaps the best lineman performance for Seattle of the evening. Look, I'm just reaching for positives here, OK? I fully expect a handful of pressure and trouble from Denver's front.
Play Action
New England's offense did a lot of things similar to the Broncos. They audibled to run on favorable fronts and built play action on top of it. Seattle just runs and builds play action on top of it. Either way, you'd expect the 19th & 20th weeks of the season to display some good defense against play action.
Wilson is paying the cost to be the boss. Denver won't likely drop both defenders back on the backside vs. Seattle; there were no routes to threaten the flat here anyway. It was likely an assignment miscue by Nate Irving, here. But Wilson gets this pressure in his face. Denver will plan to contain the scrambling lanes, like everyone has, and in situations like this, he'll have the ripe opportunity to exploit 4 in coverage against two receivers. Whether he throws before the pressure gets there, or successfully leaks out to extend the play, remains to be seen.
Here's Denver coaxed into 10 in the box. It's 2nd & 10, Denver territory. Granted, New England goes with 12 personnel, strongside right, and then motions Danny Amendola in behind the tackle. Julian Edelman is the lone receiver. But jeeze. This is play-action exactly one minute and four plays after another 12-personnel play-action pass; you'd think Denver might give a little safety help.
In both cases, the Edelman (Amendola, too, on the prior play) beat the coverage and Brady missed an easy pass.
So you could say they cheat toward the run a little. You could say they're vulnerable to constraint plays. You could expect Denver to be prepared to defend bootlegs and rollouts well against Seattle. They'll very thoroughly do their homework. But New England's set up play action this way all year. And San Francisco knows Seattle very well. They played them three times this year.
They're fundamentally sound, talented through & through. You would't expect them to cheat toward the run. Yes, they saw TE Luke Willson come open a few times, in the regular season, but come playoff time, you'd expect the 49ers to adjust appropriately. They have two of the best pass defending ILBs in the game, so you wouldn't expect too many problems there.
Some percent of the time, it works every time. As 
Chris Brown & Danny Kelly
have pointed out, play-action is the constraint play on the ILBs & safeties cheating up. The bootlegs, read-option & bubble screens are the constraint plays that keep the OLBs from getting too close in on those Marshawn Lynch runs. Opening those up is where 
Percy Harvin can make the most impact
.
The Main Event
Picks vs. Picks. That's what I call this matchup.
Denver's offense
The pick routes have drawn much attention, and while I certainly see no malice in Wes Welker's block that ended Aqib Talib's season -- not to mention New England running similar picks in the same game...
...still, I would be surprised if there's not a new area of emphasis for the 2014 NFL season, despite the league's tendency to err on the side of scoring. But be all that as it may, the pick routes have been icing on the mesh concepts that have been around since the mid-80s with Norm Chow at BYU, and even earlier.
They've just mastered it better than college teams could. The greater points of emphasis for the Broncos haven't just been using picks and throwing underneath, but sweeping out defenders from one side of a field and throwing underneath to a receiver so that he has an acre of field in front of him when he gets the ball.
From wide splits or TE and the slot, they send plenty of routes deep up the seams. The primary purpose is to clear out the defenders for the underneath routes, as I said, but this is their version of the long con, their constraint plays to coerce the deep defenders to take those routes less seriously after Denver continues to eat up ridiculous YAC on mesh after mesh after flood after mesh.
They attack the flats a lot, but usually with a crossing route. And this all sets up the isolation play for Denver, who uses Julius Thomas to produce a mismatch. What would you do in the red zone with a big target? You'd isolate him one on one and then throw the fade? Yeah, I would, too. We're smart about football, aren't we? Peyton Manning is, too.
Meanwhile, Seattle has contained the perimeter of the field masterfully this season. They faced a now-somewhat-famous total of 8 attempts to deep middle this year, two of which were completed. That's 1 deep middle pass for every 2 games, and 1 completion for every 8 games. The team is built by design to control the redline on both sides of the ball. So they allow more completions underneath, particularly short middle, by design.
Earl Thomas keeps the top on the defense, and the corners control the edges. Manning is legendary for moving defenses into the look and formation that he wants. For all the attention to the Demaryius Thomas and Richard Sherman matchup, the real matchup here is Earl & Manning.
Seattle's defense
The biggest question to me has been what type of coverage shells Seattle will stick to. Will they try to disguise their coverage like so many have advised versus Manning?
New England stuck to Cover 2 almost exclusively. Possibly a reactive response to the success Denver was having running pick plays, but this hails back to Peyton's time in Indianapolis while Tennessee was a division crown threat. Jeff Fisher's teams would routinely give the Colts more defensive trouble than their talent warranted. One of the chief tactics Fisher & Jim Schwartz would utilize was Cover 2 with very widely-split safeties. That Tom Moore "concepts" offense with Manning as field general stuck to two personnel groupings for approximately 85% of their plays, year in, year out.
They attacked the perimeter as much as Seattle does today, with Marvin Harrison and Reggie Wayne commanding presences on the outside. Fisher dared Manning to stick to crossing routes through & around the MLB middle zone. Not that Manning doesn't have the precision to perform that surgery -- he does, obviously -- but it forces an entire offense to succeed by an approach that they weren't built for. They were built for attacking the perimeter. It kept the Titans in the game.
Seattle sticks to Cover 3, but not exclusively. Will we see Chancellor & Thomas splitting deep duties, either with man under or the more conservative quarters defense? San Diego primarily stuck to Cover 3, mixing in some attempts at disguising their coverage as Cover 2 or vice versa. Houston adjusted at halftime and went from primarily cover 2 to  cover 3 and a little 3-man free. Wade Phillips, he knows football. Houston shut Denver out in the 3rd quarter, too, with a handful of 3-&-outs. Of course Denver blew the doors off it in Q4 with 3 TDs, cover 3 be damned. It's not like its some kind of magical recipe for stopping the Broncos.
Tennessee, San Diego & Kansas City made some attempts to disguise their coverage shells, but not extensively. If that's your team's bag, then fine. Peyton cognates faster than most football players, and trying to combat the chicken dance with some shenanigans of your own is playing away from the strengths of most defenses, and in particular Seattle's. I doubt we see much of that.
The style makes the fight
This makes for a very interesting matchup, here. Denver will look to attack underneath the way they have all year. And Seattle will look to control the perimeter of the field the way they have all year. I expect both of them to succeed. And I expect both of them to give the other trouble in these particular areas. But as I said above, I expect someone to win this matchup decisively.
If Denver produced the most prolific offense in history by exploiting what Seattle is willing to concede, that figures to make bad news for Seattle. And it really might. If Denver wins, the story of the game simply has to be what they throw underneath. And regardless of the outcome I expect this to give Seattle trouble. The LBs and Kam Chancellor will need to be quick to the flat. But They won't keep all of these passes from moving the chains.
But here's where I see some good news for Seattle. For as legendary as The Legion Of Boom will now remain in football history, Seattle's DVOA against #1 & #2 receivers averages -15% DVOA, but the underneath coverage has actually been even stronger, and it's lasted all year: averaging more than -30% DVOA for 3rd receivers, TEs & RBs. Vince Verhei took at look at the four QBs who gave Seattle the most trouble. They produced average results, but the other QBs amounted to an astonishing TD-INT line of 9:26.
We already know that Richard Sherman is leading the league with interceptions over the past couple years despite trailing the league in pass attempts. But the soft underbelly of the Denver Broncos' juggernaut offense lies within their strength and bread & butter. Seattle probably has the fastest back seven in the league, and while they'll surrender a fair number of 1st downs underneath, if they're quick on their toes, this is pick-6 territory. Denver leaves a ton of open field in front of those meshing, picking receivers, but also a ton of open field behind them.
It's Manning. Don't count on it.
But Seattle figures to win the portions of the field they're built to win. They figure to control the run game with no compromise to the pass defense. They figure to run, but not roughshod, and they figure to have trouble in passing offense and the red zone. That's a recipe for a close game, with Seattle keeping both teams in the game as we've seen all too often.
No, I'm not predicting a blowout. But I see three ways that it could happen: Manning beats Thomas decisively. Seattle collectively beat the Broncos' passing game decisively. Or a jumped route or two on passes with diminished velocity turns or even decides the game.